Table of Contents
The Dynamic Fusion of Material, Technology, and Design: A Deep Dive into the Second Annual Symposium in Nashville
Nashville may be universally recognized as the beating heart of country music, but a different rhythm altogether - that of rock 'n' roll - is what might best encapsulate the electrifying atmosphere witnessed at the second annual Material, Technology, and Design Symposium at the CPA Fall Meeting this past September.
Drawing a diverse crowd of over 300 industry aficionados to the iconic Music City, this event emerged as the go-to gathering for leaders looking for transformative insights. With a stellar lineup of speakers, an engaging trade show showcasing forward-thinking ideas, and a two-day span dedicated to fostering relationships and championing deals, it's no wonder that the symposium is quickly making its mark as an unmissable event in the industry calendar.
Spotlight on the Game-Changers: Meeting the Luminaries of Innovation
The symposium was graced by the expertise of speakers such as Todd Bracher and Tom Wujec, both luminaries in their respective fields, recognized globally for their unique blend of inventive prowess, trend-setting innovation, and a track record of catalyzing market growth among their diverse clientele.
Todd Bracher, celebrated for his achievements in industrial design and spearheading the visionary Todd Bracher Studio, delved into a presentation thoughtfully titled "Design for Strategic Differentiation." Through his insightful discourse, Bracher ignited a spark in attendees, challenging them to adopt groundbreaking approaches in their endeavors.
Complementing this was Tom Wujec, renowned for his role as the chief disruptor at Autodesk. This company, an industry behemoth celebrated for its pioneering efforts in 3D computer animation technology (boasting an Oscar to its name) and standing tall as one of the globe's software giants, offered the audience a glimpse into the future.
Wujec's illuminating talk, "The Future of Making: Revolutionizing How We Imagine, Create & Distribute Products," carved a pathway for attendees to navigate the evolving technological landscape.
Diverse Voices, Rich Insights
Adding richness to the speaker ensemble were renowned professionals, including Stephanie Pierce from MasterBrand, Mayan Metzler and Michala Hlavackova representing German Kitchen Center, and Greg Triplett from Marlite. These sessions culminated in an interactive panel comprising elite interior designers from Nashville, sharing insights into their criteria for choosing decorative surfaces.
The Broader Impact of the Symposium: Setting New Standards
This symposium, tailored for the movers and shakers of the composite panel and decorative surfaces world, transcends conventional events. Co-sponsored by the reputed Surface & Panel magazine and the Composite Panel Association, it's the perfect amalgamation of theory and practice, converging in line with CPA's Fall Meeting.
Jackson Morrill, the esteemed president of CPA, voiced his enthusiasm, noting, "The symposium, in merely its sophomore year, has seamlessly integrated itself as a mainstay of the CPA Fall Meeting. The multifaceted program, coupled with remarkable speakers and unmatched networking avenues, has garnered unprecedented attendance and overwhelming accolades."
Who Made It to the Event?
From top-tier CEOs to skilled cabinet makers, from component suppliers to distributors, and from illustrious furniture manufacturers to visionary interior designers and store fixture manufacturers, the event witnessed a confluence of the industry's best and brightest.
John Aufderhaar, the influential publisher of Surface & Panel, encapsulated the symposium's impact, asserting,
"This energetic symposium was nothing short of symphonic perfection. With captivating speakers, an exhibit hall brimming with innovation, and networking that fostered genuine collaboration, we hit every note just right."
To sum it up, the Material, Technology, and Design Symposium isn't just an event; it's the future of the industry, unfolding in real time.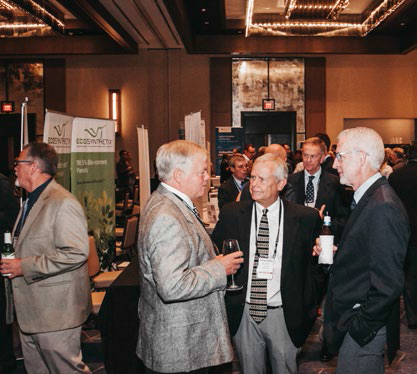 Comments