Table of Contents
ℹ️
Address: 101 Power Boulevard Archbald, PA 18403
Phone: +1 866 501 2992
Email: sales-sai@sinoma-group.com
Polygrain®: The Future of Outdoor Living Spaces
In the vast landscape of the Surface and Panel industry, discerning buyers are often on the lookout for products that stand out in terms of quality, durability, and aesthetics. As part of our commitment to presenting the best in the industry, we delve deep into one such standout product: Polygrain®. This segment of our comprehensive buyer's guide is dedicated to providing an exhaustive overview of what Polygrain® brings to the table.
Understanding Polygrain®
Exclusively crafted by the renowned SIMONA AMERICA Industries, Polygrain® is not just another product in the market. Available in a curated selection of three colors, this material masterfully replicates the organic beauty of wood while harnessing the unparalleled performance advantages of marine-grade HDPE. This synthesis of form and function ensures that Polygrain® is not just a product but an experience.
Diverse Applications for Diverse Needs
Polygrain®'s versatility is one of its standout features. Whether you're an architect designing a modern outdoor space or a contractor working on indoor cabinetry for a medical facility, Polygrain® fits the bill:
Outdoor Elegance: From patios to outdoor living areas, Polygrain® adds a touch of sophistication.
Storage Solutions: Be it outdoor cabinetry or marina storage, Polygrain® promises durability.
Design Innovations: Landscape designs, outdoor signage, or playground infrastructures, Polygrain® is the material of choice.
Indoor Excellence: Its FDA compliance makes it perfect for medical, clinical, and laboratory settings, ensuring safety without compromising on aesthetics.
The Polygrain® Advantage
Aesthetic Brilliance: Polygrain® offers a wood-like texture, elevating the visual appeal of any space it graces.
Built to Last: Where traditional materials like plywood falter, Polygrain® stands strong, resisting delamination, rot, and splinters.
Weather Warriors: Be it scorching sun, torrential rains, or saltwater exposure, Polygrain® remains unfazed.
Ease of Maintenance: Its stain-resistant nature coupled with an easy-to-clean matte finish ensures a pristine look for years.
Sustainability: In an age where environmental consciousness is paramount, Polygrain®'s 100% recyclability ensures you enjoy luxury responsibly.
Fabrication: A Dream for Craftsmen
Polygrain® is not just about end-users. For fabricators, it promises a seamless experience, especially when working with thicker panels:
Compatibility: Works effortlessly with standard wood and metal equipment.
Tooling Insights: Achieve optimal results with sharp, carbide-tipped tools, ensuring precision.
Thermal Dynamics: Polygrain® requires consideration for thermal expansion and contraction, ensuring longevity.
Hardware Recommendations: From screws designed for plastics to stainless steel fasteners, Polygrain® is versatile in its compatibility.
For those keen on exploring Polygrain® further and to get insights into other stellar vendors in the Surface and Panel industry, we recommend a visit to www.simonapolygrain.com.
As your trusted guide in the Surface and Panel industry, we remain dedicated to offering in-depth, unbiased insights. Our buyer's guide is a testament to this commitment, ensuring you make informed decisions. Stay with us as we continue to spotlight more industry leaders and innovators.
---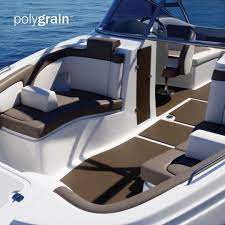 Comments