Table of Contents
In today's cutting-edge and high-achieving workplaces, if one term encapsulates its essence, it's "collaboration."
Steelcase has become synonymous with this trend.
Steelcase: Flex Collection
The company's Flex Collection presents a suite of office furnishings that fosters vibrant team spaces built for impromptu collaboration.
Steelcase describes it as a tool that equips teams with the flexibility to reshape their environments to fit the task. It facilitates seamless transitions from group brainstorming sessions to individual workshops or routine stand-ups to sprint reviews.
The New Work New Rules White Paper
Research supports that team-based work environments can propel innovation, improve outcomes, and elevate job satisfaction. Steelcase's "New Work, New Rules" white paper suggests that businesses that prioritize collaborative efforts are five times as likely to perform at a high level and realize greater profits.
However, the white paper highlights that teams face increasing demands to accelerate their pace. Today's couples are in a perpetual state of collaboration, sharing information and ideas, relying on each other's tasks, and navigating the fluidity of their projects.
Conventional Office Space
Conventional office spaces often fail to cater to the dynamic nature of such collaborative teams. Ideal workplaces, according to Steelcase, are those that support team dynamics while also caring for individual needs.
Such environments allow individuals to immerse themselves in their projects, visibly map their thoughts and ideas, and smoothly transition between collaborative and solitary work endeavors.
The Flex Collection was conceived after Steelcase studied high-performing teams worldwide to grasp their working styles and needs.
The collection is hailed for its interconnected design and thoughtful features, which allow teams to alter their space swiftly. While each piece stands out independently, they complement each other like a cohesive team.
4 Distinct Team Types
Steelcase has identified four distinct team types that benefit from the Flex range: Agile Studio, Creative Studio, Team Neighborhood, and Team Basecamp. (Refer to the accompanying article for more details.)
Mobility is the hallmark of the Flex line, with components engineered for rapid and effortless reconfiguration to match various tasks and collaborative intensities.
Durability is a non-negotiable for the Flex collection materials, but aesthetic appeal is equally weighted. Given these prerequisites, high-pressure laminate, with its robustness and visual appeal, is the ideal finish for the surfaces of Flex tables and desks.
A Steelcase Surface Materials Team spokesperson emphasizes their understanding of customers' appreciation for diversity and choice. The wide range of high-pressure laminates available for Flex enables customization and easy integration with other Steelcase products.
The collection also offers veneers, textiles, luxe coatings, and paints.
The Flex lineup includes many elements, such as mobile power stations, height-adjustable desks, variously sized tables, carts, acoustic dividers, screens, whiteboards, power solutions, and other accessories.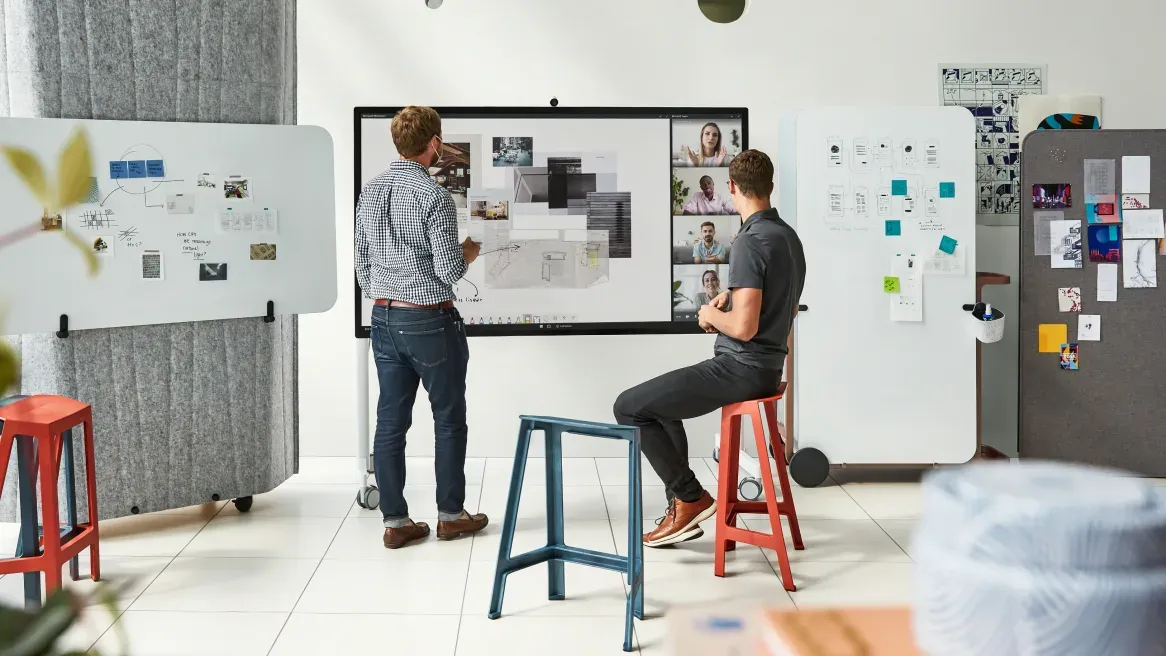 Stable & Mobile
Steelcase's height-adjustable desks are touted for their ability to adapt as swiftly as the users, being both stable and mobile. They are designed to facilitate collaborative efforts or to be moved aside for focused, solitary work.
The mobile power stations, created in partnership with charging giant Anker, offer the freedom to power up in any workspace. Steelcase praises its functionality and beauty, comparing its crafted design and textured finishes to artisanal ceramics.
Comments