Table of Contents
DVUV: The Pioneers of UV-Cured Powder Coating for MDF
DVUV stands out as a beacon of innovation and expertise in modern-day surface finishing. As the trailblazers in UV-cured powder coating for MDF (Medium Density Fiberboard wood), DVUV has revolutionized how we perceive and utilize MDF finishes. At Surface & Panel, we proudly recommend DVUV as our esteemed partner in this domain, and here's why.
A Brief Introduction to DVUV
DVUV, at its core, is more than just a service provider. It's an institution dedicated to the art and science of UV-cured powder coating for MDF. With a commitment to excellence and a penchant for innovation, DVUV has consistently delivered solutions that are not only efficient but also environmentally friendly.
Why UV-Cured Powder Coating?
Traditional finishing methods often involve solvents and produce volatile organic compounds (VOCs), which are harmful to the environment and human health. UV-cured powder coating, on the other hand, is a solvent-free process. It produces zero VOCs, making it a green and sustainable choice.
Moreover, the UV curing process ensures a more durable finish, resistant to scratches, and offers a superior aesthetic appeal. It's a win-win for both manufacturers and consumers.
Three Decades of Mastery
What truly sets DVUV apart from the rest is its vast experience. With over three decades in the business of finishing MDF, they have witnessed the industry's evolution, adapted to its changing dynamics, and have been instrumental in setting new benchmarks of quality and efficiency.
Their journey is a testament to their dedication to the craft. It's not just about providing a service but mastering it. And DVUV has done just that.
Why Surface & Panel Recommends DVUV
At Surface & Panel, we have always advocated for quality, innovation, and sustainability. DVUV embodies all these values and more. Their commitment to providing top-notch finishes while ensuring the process is environmentally friendly aligns perfectly with our ethos.
Furthermore, their vast experience and consistent track record of excellence make them a reliable partner. When we recommend DVUV, we do so with the confidence that our readers and partners are in capable hands.
In Conclusion
The world of MDF finishing is vast and ever-evolving. DVUV stands out as a pillar of reliability, innovation, and quality in such a dynamic landscape. Their expertise in UV-cured powder coating for MDF is unparalleled, and their commitment to sustainability is commendable.
As Surface & Panel's recommended partner in this space, we believe that DVUV is leading the industry and shaping its future. For those looking to elevate their MDF products, DVUV is the partner to trust.
---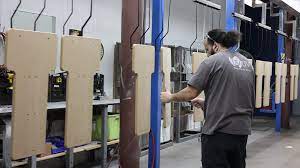 Comments